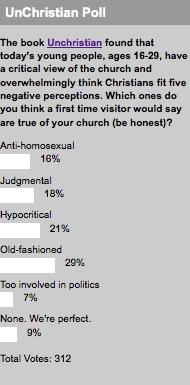 Something you probably don't know is that the folks behind Church Marketing Sucks are huge fans of the book UnChristian. Heck, you might not even know about UnChristian. It's subtitled What a New Generation Really Thinks about Christianity … And Why it Matters, and it looks at sociological research (by The Barna Group) into the attitudes of 16- to 29-year-olds towards Christianity.
They found that among these individuals, there were five prevalent perceptions. They thought the church was anti-homosexual, judgmental, hypocritical, old-fashioned and too involved in politics. And we wanted to know which of these five your church is guilty of.
29% of you said these late teens and twenty-somethings were spot-on in calling you out for being old-fashioned. The hymnals with the broken spines and dirt floors in the sanctuary must have given you away.
Another 21% said a visitor would walk away from your church feeling an over-abundance of hypocrisy. Maybe it's in the form of blue-haired ladies gossiping, or maybe your church is just brutally honest that we can't live as high as the standard we would like to. Thanks for your honesty and insight in this answer.
Slightly less of you, 18%, think a visitor would feel your church is judgmental after their first visit. Telltale signs of guilt here: greeters snicker after a visitor walks by, the pastor asking "You guys will never believe what I heard about [name here]" from the pulpit or a church sign that reads "I kissed a girl, and I liked it. Then I went to hell."
Rounding out the rest of the list are 18% of you who think you would be pegged as anti-homosexual. Another 7% of your churches are too involved in politics. And the final slice of you are the perfect 9%.
Conference idea: UnUnChristian 2009. The 9% of you who are perfect can offer classes for all the rest of us to avoid the UnChristian findings. But until then you can vote on this week's question: Which freebie would you most want to receive at a church event?