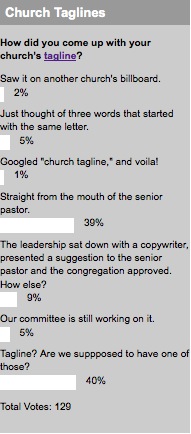 In the Church Marketing Lab, a discussion fired up on how to choose a church tagline. So we wanted to know just how your church went about it.
The majority of you went with a shrug and admitting that there is no tagline involved in your church's marketing. And just a few less of you left a note on your pastor's desk that said "Need tagline, leaving office, e-mail me tonight." Those two options make up a whole 80% of folks who responded.
Among the rest of you, here's how things shaped up: 9% of you hired a copywriter, communicated vision and let the congregation approve of it. And it only took most of you 7-12 years. And another 5% couldn't hit the 12 year window, and it's still lost somewhere between the Finance Committee and the Senior Citizens' Church Marketing Committee.
5% went with either a rhyming dictionary or the elusive alliterative dictionary to create a cool concept to communicate cause. And a small, small slice of the pie either asked Google or just straight up stole it from another church's advertising. But only after you couldn't find a good tagline on Napster, right?
When the Church Marketing Lab weighed in, here's what they had to say:
"Church taglines should not make churches sound self absorbed … they should be about the person you're talking to. Taglines should tell the reader how he or she can benefit from interacting with your church."
"You tag line needs to be an extension of who you are. Trying to come at it any other way is a mistake, and will lack integrity when you're done."
"I have no idea. I'm a Presbyterian. Our implicit tagline is 'Come because you were born here.' We don't do marketing. I'm here to learn."
"One of the best church taglines (and description) that caught my attention, and I still remember it is: Vintage 21–a community of God seekers, God followers, and God doubters."