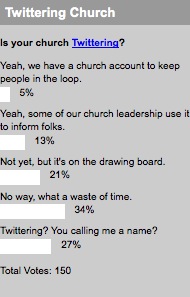 We've asked you, "What would Jesus Twitter?" and we've talked about Twitter for churches. But it's time to put you to the test. Is your church Twittering?
The biggest chunk of you, at 34%, aren't Twittering. The poll phrased it as, "What a waste of time," but that wasn't the best phrasing. That's just 34% of you churches who don't yet Twitter and don't plan to
Another 27% of you don't know what a Twitter is or why you would want to do it. Wikipedia is your friend. And 21% of you have it in the works, but it's not up and running yet.
Of the 18% of you who are currently Twittering, there are two ways you're going about it. Most of you have some church leadership who tweet. They pass on church information to anyone who would like to follow them. While a small 5% of you actually have a church-wide account.
So now it's your turn, click through your RSS reader to get commenting. Do you think Twitter is such a waste of time? Do you have a church account and want to share your success? Let us know!
And while you're here, let us know this week, now that the Job Lab and Freelance Lab are permanently free, are you more likely to use them?