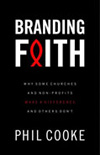 Over the last several weeks I've been working my way through Phil Cooke's latest book, Branding Faith: Why Some Churches and Nonprofits Impact Culture and Others Don't. I've known Phil virtually for several years and have collaborated on some small projects with him in the past through my role at Foursquare. Having never met in person, you can imagine our surprise last month when not only did we find ourselves sharing a flight to Dallas, but we were seated right next to each other. Crazy!
Branding Faith is a must-read for church leadership that is unfamiliar with marketing and branding. Last time I checked that covered just about every pastor on the planet so you might as well order your copy today. It's a perfect companion to Richard Reising's Church Marketing 101 so go ahead and add them both to your Amazon cart or give them as a gift to your pastor.
If you don't know Phil or if you've never heard him speak, you gotta know up front that he is a call-it-like-it-is kinda guy. In Phil's words, he "was born with a very sensitive B.S. button." I am naturally drawn to people like this although they do tend to get on my nerves sometimes. Phil both drew me in and got on my nerves a little.

If you already get the whole conversation about church branding and marketing, this book is not for you since it will read rather drably. This was especially the case for me since it's the world I live and breathe every day. Phil's take is certainly unique–he comes at it from decades of experience in television/media ministry, as well as his founding partnership with a mainstream commercial production company.
The premise for Branding Faith is that the church has lost it's story and until churches can identify their compelling brand, they're going to continue suffering the consequences of a good story told badly.
There are two significant issues I take with Phil in this book. First is his suggestion that "the pastor or ministry leader is the hub of the brand. Everything else revolves around his or her role." Phil admittedly doesn't like this either–and neither do I–but that doesn't mean we should settle for this reality, regardless of the culture we live in. Phil's media ministry lens is obviously a contributing factor to his line of thinking.
The other thing I take issue with is Phil's suggestion that we should begin first with understanding our audience and secondly with understanding our message. Aside from being at direct odds with my humble opinion, I couldn't believe what I was reading when Phil suggests that readers "Think how [the audience] could perceive your comments and all the myriad ways they might relate to its content. Then, start preparing your message." Seems backwards to me and screams inauthentic marketing. To his credit, Phil does understand the controversial nature of this approach, but I was still left unconvinced.
Overall, Branding Faith is a great book full of great lessons that answers the "why" of church branding. It's a perfect setup to the next book Phil (or someone) should write that would talk about how to actually define and demonstrate a church brand.