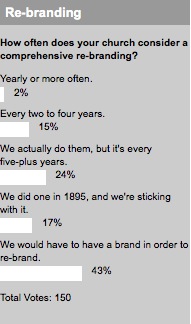 Warning: bad news ahead.
We are all about churches communicating clearly and effectively, in case you were unaware. One great way to do that is through a brand. It ties everything you stand for together and gives it to people in a clear, digestable package. That said, let's see what our readers said when asked how often their church re-brands.
24% of you make an effort to re-evaluate the way you communicate via branding, but you only do it every five-plus years. Perhaps this is because you feel your brand can be effective for over five years, or perhaps you just rethink things when you eventually find your brand has become ineffective.
15% of you are re-branding every two to four years. This seems ideal. You're not letting your brand lose its power before you upgrade–keeps momentum and focus both high. It's also expensive and time-consuming, which is why most churches don't follow suit. And 2% of you go so far as to re-brand at least once a year. Wow. Sounds busy.
The concerning bit are the 60% who either have a brand from long, long ago or don't have a brand at all. Branding doesn't have to be extraordinarily expensive, and it can be outsourced to some degree, so there's really no excuse. Head here to get started on your brand journey.
This week, tell us: How does your church celebrate Halloween? Click through your RSS reader to vote on the site.