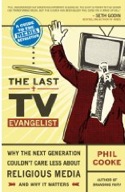 A year ago I reviewed Branding Faith: Why Some Churches and Nonprofits Impact Culture and Others Don't, by Phil Cooke. It's a great book, especially for church leadership that is unfamiliar with marketing and branding.
Phil's latest book is another mouthful: The Last TV Evangelist: Why the Next Generation Couldn't Care Less About Religious Media and Why It Matters. It's not exactly the follow-up to Branding Faith I had expected or asked him to write, but what do I know.
I told Phil that The Last TV Evangelist could either cost him his career in ministry media or catapult him to cult status. The book is a pull-no-punches piece about ten years overdue. If Phil's livelihood had not depended on the very industry he's critiquing, I'm sure it would have been out sooner.

If you've already read Branding Faith, you can skim this gem. I can't remember the last time I've seen this much self-reference or self-reverence in a book. But if anybody can pull it off, Phil's the man. And he knows it.
If you haven't read Branding Faith, The Last TV Evangelist will kill your two birds with one stone. It will remind you how important the message we're all about is, and how important it is to communicate that message properly.
The Last TV Evangelist is loaded with historical references and quotes that make Phil's points even more palatable. Phil knows the ministry media industry inside and out, and he's the perfect candidate to surmise its demise and pontificate its potential.
If you have a vested interest in communicating the greatest story ever told, it might help to know where we've been and where we're going so that this generation won't be the sequel to The Last…