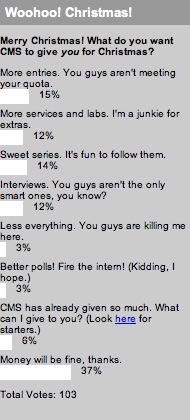 Last week, as we got ready for Christmas, we asked you what you wanted from CMS for Christmas. Here's what you had to say.
37% of you think money will be just fine. Unfortunately, we're a nonprofit organization, heavy on the nonprofit and light on the organization. If you want our money, you'll probably have to rob us, and you'll probably spend more on the gas to get here than you'll get from the heist.
15% of you have too much free time and want more reading material. We'll do our best to keep sending things your way via entries. Slightly less, 14%, enjoy the series that we do. We're planning on keeping those coming, so don't despair.
Another 12% of you are service junkies. You love the Job Lab, the Freelance Lab and the Church Marketing Lab. What other services could you imagine seeing? Tied with services are the 12% of you guys who are looking for more interviews. Let us know who you would like to see in the hot seat, and we'll see what we can do.
6% of you (Thanks!) are just concerned with what you can do for CMS. The answer of course is on our support page. Rounding out the list are the 3% of you who want less everything and the 3% who want to fire the intern for the sake of better polls. Sheesh, Merry Christmas to you, too.
This week, we want to know, what are your marketing goals to better your church in 2008, in two words or less? (Choose all that apply.)