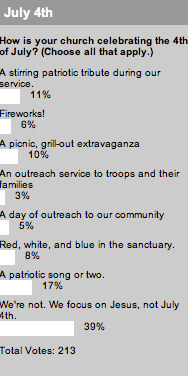 We at Church Marketing Sucks hope that you had a great 4th of July. That being said, last week, we asked you just how you would be celebrating. Here's what you said:
39% of you are focusing on Jesus rather than the Fouth, ignoring the holiday altogether. I feel a controversy a-brewin'. How did this go over? Did you guys get some heat? Slightly less, 17%, went with a patriotic song. God Bless the USA, I'm Proud to Be an American or our national anthem, I'd presume.
11% of you went with the full-fledged emotionally stirring patriotic tribute during the service. Go big or go home, right? And 10% of you went with a picnic, grill-out extravaganza. On a pyrotechnically disappointing note, only 6% of you had fireworks.
8% of you decked out the sanctuary in red, white, and blue, and 6% opted to spend the day serving the community. Coming in last place was an outreach to troops and their families, with only 3% of churches taking that route.
Now that it's a week later and hindsight is 20/20, how did it work out for you? Did you guys have successful Fouths? What would you change?
Don't forget to head over and vote this week as we want to know what it would matter to you where a new church meets.