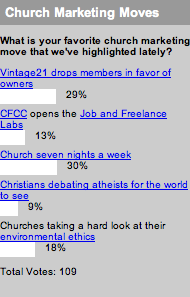 Last week, we asked you which of the church marketing moves we had highlighted lately was your favorite. We gave you a choice of five entries, and here's how you felt:
Church seven nights a week came out on top, with 30% of the vote. Some of you just aren't happy with only going once! In a close second was Vintage 21 calling members "owners." 29% of you liked this idea the best.
18% of you most liked the idea of churches taking a hard look at their environmental ethics. 13% of you chose the opening of the Job Lab and Freelance Project Lab as your favorite church marketing move. In other words, 13% of you were correct. Only kidding. Kind of. And finally, 9% of you most liked the idea of Christians taking atheists on in the world of debate.
This week, we move away from stories we've run to get ready for summer at the polls! Let us know what worries you most in the world of your church as summer approaches.