Whether you've been in communication for years or you're just getting started, we've all seen how church communication works. Or too often, doesn't work. We do things the way they've always been done until one day it becomes too much or things go awry—and we realize it's time to rethink communication.
So what was your rethink communication moment?
When did you realize it was time to step back and reconsider how this all works? What made you decide to put a process in place or overhaul the process you had? What was the straw that finally broke the camel's back?
For some of us, it was an announcement like this one:
Just a simple slip of the tongue, an unintentional pun, right? But stepping on to the stage with an entire page full of announcements and trying to rush them—it was time to rethink communication.
Maybe it was the day you realized there were 30 different announcements in the bulletin.
Maybe it was the time you announced a young parents event to a room of gray-haired adults.
Maybe it was when your pastor admitted he had no time to do the work you told him he wouldn't have time to do.
What was the moment that pushed you forward to really rethink how your church communicates? We want to hear your story.
Share Your Story & Win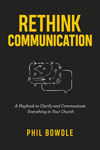 Let's shout those rethink communication moments from the rooftop. Use the hashtag #RethinkCommunication on Twitter and Instagram or reply to our posts on Facebook. You can also use the form below to share your story.
You may have heard we have a new book out, Rethink Communication, that explores this very issue. So we've got prizes for the best stories:
You've got until Feb. 21, 2019 to enter, and then we'll pick the winners. So share your story. Use the hashtag on social media or fill out the contest form below.
Note: This contest is now closed. Thanks for sharing your rethink moments.
More:
If you're ready to rethink communication, check out the new book from Phil Bowdle, Rethink Communication: A Playbook to Clarify and Communicate Everything in Your Church. You can get a free sample or read an excerpt.
Rules & Fine Print:
Winners are limited to the United States (sorry, we're not shipping internationally). Contest runs through Feb. 21, 2019. We reserve the right to change that deadline and all the rules whenever we see fit (it's our contest). All decisions about contest winners are final and the exact definition of "best" is up to us. By submitting your story, you give the Center for Church Communication all rights to change, edit, share, publish, and otherwise repurpose your story. Winners will be contacted for delivery information, but if we don't receive a timely response we reserve the right to pick a different winner. Since we're welcoming entries via hashtag and reply on social media, we will do our best to scour the various channels and log all entrants, but there is no guarantee that we will see all submissions. Void where prohibited. Employees of CFCC and Phil Bowdle and their families are not eligible.