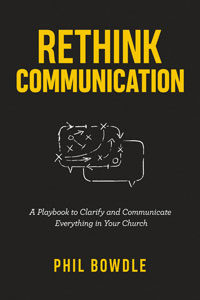 We're thrilled to announce that we're publishing a new book from Phil Bowdle, and you can pre-order it now. It's called Rethink Communication: A Playbook to Clarify and Communicate Everything in Your Church.
The book will be available in January, and you'll get some bonus goodies if you pre-order now.
But first, what's it about?
Rethink Communication
It's never been easier to communicate. Unfortunately, it's never been harder to connect. The church doesn't have a message problem. The church is facing a message delivery problem where the methods that worked before are not working anymore. Not only have the communication methods changed, but so have the people we're trying to reach.
Churches need a playbook to navigate the biggest communication shift we've seen in generations.
Phil Bowdle, the creative arts pastor at West Ridge Church in Atlanta and a church communicator since 2004, walks through the new reality for what attendance, engagement, and attention look like for the church. Then, he offers a practical communication playbook you can use to communicate anything in your church—and actually connect. These practical tips and proven strategies will work regardless of size, staff, or budget.
Pre-Order Now
You can pre-order Rethink Communication now. As a bonus for pre-ordering, you'll get:
A signed copy of the book mailed to you at release.
Download of the Introduction to the book.
Download of "How to Build a Social Media Plan."
Entered into drawing for a free one-on-one coaching session with Phil.
We're finishing up work on the book now and it will be released in January.
So reserve your copy now. Consider it a belated Christmas present to yourself. Or send the link to your loved ones and drop a not-so-subtle hint that you're just fine with Christmas presents in January.