Our church has been using email as a communication tool for several years. It's fast, it's free (well, kind of) and it allows us to reach our more than 11,000 subscribers very efficiently.
We've done church email right, and we've done it wrong. Very wrong. Here are the basics on both.
When I came on staff as communications director in 2012, I had already been a recipient of our church's email communications for several years. It irked me that there was no consistent voice or look to the messaging, it was sporadically timed and often I'd receive the same information from three or four different ministries. (Or worse yet, slightly different information, leaving me confused.) It also irked me that I never asked to receive any of it.)
Help! Our Emails Aren't Going Through!
So I wasn't surprised that one of the first challenges to greet me in my new position was that Hotmail, Gmail and a few other major email providers had blacklisted our organization.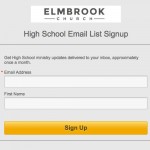 The communications team had a Constant Contact account and used it for occasional church-wide messaging, and dozens of ministries were each sending out their own messaging to lists they maintained in spreadsheets. None these lists were opt-in based (i.e., the recipients hadn't asked to get them), so an alarming percentage of recipients had flagged our church emails as spam.
This crisis was fortunate, in that our ministries were happy to comply with new, strict email standards to clear the lines and get emails flowing again. I compiled a list of the most frequently reached audiences by demographic, set up opt-in lists for each of them and worked with ministries to set up monthly emails to their list. Also, our IT department blocked all outbound emails being sent to 30 or more recipients and worked diligently to get us whitelisted again. (Can I get an "Amen" for IT? Seriously.)
The Gift of Choice
Since then we've finessed our "list of lists" a few times. Right now it includes 25 different emails that subscribers can opt in to receive. Most are monthly (e.g., women, men, high school, kids), and some are twice a month (senior pastor updates and upcoming events). List sizes range from fewer than 100 recipients (Elmbrook en Español) to more than 11,000 (general Elmbrook updates). I periodically assess their open rates to see which ones are getting read (or not) and adjust accordingly.
"Twenty-five emails a month? Isn't that overkill?" Well, for us, no.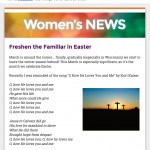 Targeted emails enable us to whisper in the ear of very specific audiences the information they need to know and save our church-wide bandwidth (platform announcements, bulletin ads, etc.) for our highest-emphasis initiatives.
By committing to this approach we've provided ministries with a powerful communication tool that lets them effectively reach their audience on a regular basis, giving them less reason to go around the system. The change has also gone a long way toward building trust with our ministries.
We use Basecamp to assign and manage content for each email, and a ministry contact writes the copy. Our team edits the copy, makes it pretty and sends it out via Constant Contact. This ensures consistent branding and voice and ensures that not more than one email goes out each day.
This works for us—at least for now. Our list numbers are growing, and open rates for almost all of them are well above the industry average for nonprofits.
Church Email Tips We've Learned
Here are seven church email tips we've learned that have made our efforts more successful:
1. The "From" Field Matters
More people open our emails when we include our church name and the email address of a high-profile ministry staffer. For example, our pastor Steve Sonderman is nationally known in men's ministry, so for monthly men's emails, the from field is "Elmbrook Men's Ministry" and the sending email address is his email.
2. So Does the Subject Line
Only the first 50 characters show on some email previews, so keep the subject line short. We had less favorable response to subject lines that include "… and more" or the holiday du jour (e.g. "A New Year's Resolution") probably because it didn't promise unique content. And maybe this is just a Wisconsin thing, but when we include a discount or special offer in the subject line, we always get higher open rates. In our church that can look like this: "Be the first to receive a copy of the new Advent devotional" or "Welcome to Elmbrook! Our gift to you."
3. Older Audiences Care More About Consistency Than Content
Younger audiences care more about content than consistency. We get the best open rates on emails to older adults when we keep the subject line very similar each month (e.g. "February Prayer Requests") and send it on the same day. Our young adult audience, though, is more likely to open an email with a subject line that promises some new information of value (e.g., "3 Ways to Shore Up Your Faith"). If things are quiet one month in young adults ministry, we'll skip that month rather than make something up just for the sake of staying on schedule.
4. People Like Photos of the Author
In a church our size, communication from high-profile pastors and other staff gets the best open rates and click-through engagement. When we include their photo it helps even more, especially if most of the photo appears below the fold so readers have to scroll down to see it.
5. Personalizing Emails Isn't Worth the Extra Work
For a while we experimented with using the merge tags in Constant Contact to add "Hello [first name]" to the subject line or salutation, but I didn't notice any increase in open rate. And because not everyone on our list has given us their first name, it can get a little tricky. (For the record I know Constant Contact is able to swap in a different salutation in those instances. It just wasn't worth it for us to spend more time figuring it out.)
6. You Can't Count Clicks on Email Addresses
Our "Top Serving Needs" emails often have links to more than 20 contact names' emails as the calls-to-action. I was discouraged when I saw low click rates month after month. After submitting a support request to Constant Contact, I learned that clicks on email can't be measured. (If anyone has found a way around this, I'd love to hear from you!)
7. Opt-ins Are Good to Gather in Places Where Your Audience Is Already
We added unique opt-in forms for each of our lists on their respective ministry pages and on their Facebook pages, and they get great traction. We also give visitors a chance to sign up for our two most popular emails (senior pastor updates and upcoming events) on the electronic forms found on iPads at our Fireplace newcomers' reception and on a link on an opt-in text message series we have for newcomers.
Church Email Tips
So there you have it. It's not a perfect system, but it works well for us, and it's getting better. Some of the keys for us have been consistency, pre-planning, and some pretty-constant evaluation and re-evaluation.
How about you? What ideas have worked for you in reaching your church effectively via email?