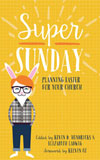 Easter is the biggest Sunday of the year. But it starts with Ash Wednesday and Lent. This traditional season can be a counter-point to the hype of Easter, even if your church doesn't participate. Our new book, Super Sunday: Planning Easter for Your Church, covers some ideas for including Ash Wednesday and Lent in your Easter plans. We went deeper and asked some church communicators how Ash Wednesday and Lent help them prepare for Easter.
How do Ash Wednesday and Lent play into your preparations for Easter?
We asked five church communicators what they do for Ash Wednesday and Lent. Here's what they said:
The solemn focus of Ash Wednesday and Lent makes the joyous celebration of Easter Sunday that much more alive.
Working Together
Angie Shoaf, communications strategist at Christ on Capitol Hill in St. Paul, Minn.:
Both are very important in our church, and all are well attended. By fully participating in Ash Wednesday and walking the way of the cross during Lent, Easter becomes far more joyous, as we have fully perceived what is being overcome by Jesus' overcoming death.
In the last couple of years, we have also begun rotating Lent services each week between our church and two nearby churches, which has taken a tremendous amount of burden from everyone, allowing for a little extra rest for the pastors as well as staffs of each church. The big blessing is also the community building it has done in bringing the people of all three churches together.
Sharing Resources
Crystal Kirkman, communications director at First Christian Church in Decatur, Ill.:
We provide households with Bible study resources to help them prepare their hearts and minds for Easter. Those resources can be print, or more recently for us, texts and/or emails.
Beginning Easter
Katy Dunigan, marketing and social media director for OnlineChurchDirectory.com:
At the church where I worked, our Ash Wednesday services were hosted by our small sister church, so other than announcing it and inviting people to come, I wasn't responsible for the preparations or logistics. I know the service played an important role in beginning our Easter season focus, although attendance was usually quite low.
Stay Grounded
Theresa Decker, communications director at Grace Fellowship Church in Johnson City, Tenn.:
While our church doesn't participate in Ash Wednesday or Lent, I choose to personally participate in Lent as a way to keep me grounded and focused on the cross throughout a chaotic and busy season.
Personal Observation
Adam Legg, creative arts and communications pastor at ChangePoint Church in Anchorage, Alaska:
Our church doesn't observe Ash Wednesday or Lent, but several years ago my wife and I made the decision to make both of these a part of our yearly rhythm. Lent has become one of the most meaningful times of the year for us. Lent has become a season of focus and remembrance during a time of busyness and long hours. Beginning my journey towards Easter with the solemn focus of Ash Wednesday and Lent makes the joyous celebration of Easter Sunday that much more alive.
Need More? 3 Easter Resources:
Get more Easter ideas with our growing collection of articles, examples, and more.
Check out our book, Super Sunday: Planning Easter for Your Church, for tips on how to plan, promote, and survive Easter.
Go deeper for even more Easter resources and join our Courageous Storytellers Membership Site. You'll get access to downloadable resources including planners, guides, worksheets, graphics, and more.