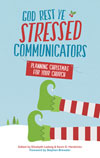 Last night's #cmschat on Twitter covered how to promote your Christmas series or event. It's a time when people who aren't inclined to go to church often do. The conversation covers what churches do for Christmas and how they can take advantage of this opportunity to reach out to people.
For more on Christmas, check out Christmas ideas for churches and our book, God Rest Ye Stressed Communicators: Planning Christmas for Your Church.
Join us every Thursday at 9 p.m. ET for #cmschat on Twitter.
Read the transcript: