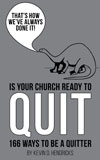 Last week we kicked off an entire month of quitting, inspired by Bob Goff. We don't usually think of quitters as inspiring heroes. So, who is this guy?
Bob Goff is the founding partner of a law firm, a New York Times best-selling author and the honorary consul for the Republic of Uganda. He also founded the nonprofit Restore International, which works to "change a few lives for the better," focusing on human rights and education in countries such as Uganda, India, Somalia and more.
Bob Goff is accomplished and successful. And every Thursday he quits something.
Sometimes it's something real and tangible, like a job. Once Bob resigned a board position at a nonprofit because it was a Thursday.
Sometimes it's something less tangible like a bad attitude or pesky habit. Once Bob quit being afraid. (OK, that's probably something he has to repeatedly quit.)
It's Time for Your Church to Quit: Bob Goff Quits Every Week
This weekly quitting is kind of wacky.
Bob is kind of a wacky guy.
But despite the wackiness, there is a serious point:
"We can't change much if we don't quit much." –Bob Goff
Bob's admittedly crazy idea to quit something every Thursday is a way to force himself to shake things up and bring change. It's a way to reevaluate and get rid of the stuff that doesn't matter. It's a way to create margin and bring sanity.
"Change can be good," Bob says. "[Quitting] frees you up and it works. It's not for everybody. It might drive you crazy, and if that's the case, don't do it."
But the whole point is to quit doing the things that hold you back.
Our churches have a few things we could stand to quit.
Maybe your church has attitudes or traditions that get in the way of where God wants to lead you. Maybe your church is doing perfectly normal and good stuff that's stopping you from doing amazing and powerful stuff. Maybe your church needs to quit being boring and start being creative.
Quit What?
So what is Bob quitting? How does this actually work? Bob told me he quits all kinds of things that will free up time or shake things up:
He quit having an office. (He works on a lobster boat he dubbed the "Goffice").
He quit leaving phone messages. (How much time is wasted with that back and forth?).
He quit making appointments. ("Friends don't make appointments.")
Bob also suggests we quit habits or behaviors that hold us back:
Sometimes quitting is more intangible. It's not quite as wacky, but it's a lot more inspiring.
What Can Your Church Quit?
So let's be a little wacky like Bob—and, honestly, really bold—and ask the question: What can our churches quit?
What are the things holding your church back?
What are the age-old commitments that don't make sense anymore?
What has your church always done that it needs to stop doing?
Our churches are busy. We've got burned out staff and over-committed volunteers. We've got members too busy to show up every week and visitors wondering if we notice them.
"I used to be afraid of failing at something that really mattered to me, but now I'm more afraid of succeeding at things that don't matter." – Bob Goff
In the midst of everything our churches do, are we doing what matters most? Or are we succeeding at things that don't matter? Maybe our churches need to do less, so we can do what's most important.
What can your church quit? Share your ideas in the comments.
More: