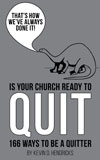 Last night's #cmschat on Twitter talked about quitting.
Are you ready to quit? We've been quitters this month, talking about Bob Goff's challenge to quit something every Thursday. Sometimes we're too busy doing good stuff that we never have time to do great stuff.
We also put together a book collecting 166 ways to be a quitter.
What does your church need to quit?
Join us every Thursday at 9 p.m. ET for #cmschat on Twitter.
Read the transcript (or check out the post of ideas collected from this chat):