This weekend Daylight Savings Time begins in the U.S., which means setting our clocks forward and seeing who shows up an hour late to church on Sunday morning. Help your congregation with a simple reminder on social media. A free Daylight Savings graphic to share is below.
Remind your church to spring forward and set their clocks ahead an hour:
A simple reminder can be huge. It's a little late to put something in the bulletin, so use your more immediate communication channels, whether that's email, social media, text or more.
You can use our image below to post to Facebook or other social networks. Add some text to remind people to set their clocks ahead and add your worship times. Whatever works for you.
Incentives are fun: Offer donuts or other goodies for those who remember and show up on time.
Have more fun with the late arrivals: Come up with a gracious plan to welcome those who forget and show up late. Maybe save 'em a donut.
Daylight Savings Graphic: Spring Forward
Here's a free Daylight Savings graphic you can share on your church social accounts. It's a ready-to-use JPG file and PSD file in case you want to make some edits: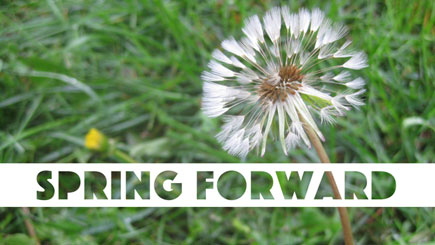 Download the Spring Daylight Savings Graphics
Do It Yourself
We encourage you to get creative and make your own graphics. The Church Graphics Handbook by Brady Shearer can be a big help if you're not sure where to start. It comes with templates and graphics you can edit and tweak.
Need More Social Graphics?
Join Courageous Storytellers for an archive of all kinds of social media graphics and stock photos, among other practical resources for church communicators.