Have you seen these incredible Christmas church attendance stats from Catalyst Creative?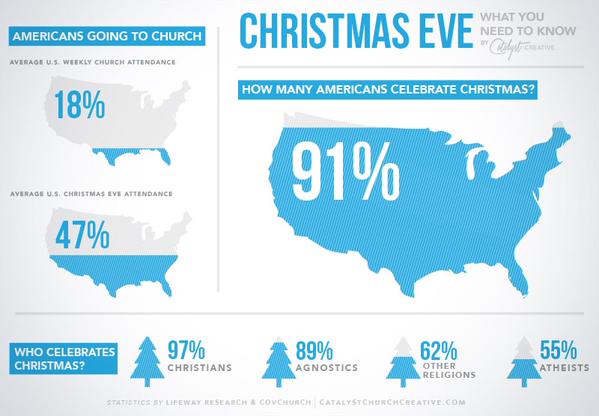 18% average weekly church attendance balloons to 47% on Christmas. 91% of Americans celebrate Christmas.
Details: Christmas Week & the Unchurched
These Christmas church attendance stats come from a 2010 Lifeway study. The 47% number is buried in the second to last paragraph, and technically it's "Christmas week services," whether it's Christmas Eve, Christmas or some other special service.
You'll also learn that 2% of atheists, 9% agnostics and 22% who claim other religions all attend church at Christmas. That's big time church attendance for people who wouldn't typically walk in the door.
More Stats: More Jesus
For more Christmas church stats, Lifeway has a 2014 study (and a second 2010 study) that gives us even more holiday cheer:
79% of Americans think Christmas should be more about Jesus.
63% think Christmas should include a visit to church. (Wishful thinking, since only 47% get there?)
"Younger Americans are least interested in church at Christmas time." 38% of 18- to 24-year-olds say church is an essential part of Christmas, compared to 55% of 25- to 34-year-olds. Across the board, younger people are less enthralled with Christmas than older people. Of course by "younger people" we're not talking about little kids enjoying the many bribes of Christmas.
While people do want religious Christmas songs in schools (86% agree), fewer buy the "War on Christmas": Only 29% agree that saying "Happy Holidays" instead of "Merry Christmas" is offensive (which still seems like too high of a number—see the holiday persecution flowchart).
Best way to get those 47% to church on Christmas? Personally invite your family (67%) or a friend or neighbor (63%).
So What?
What does all this mean for your church? A few quick things to keep in mind:
Your Christmas services matter: This is a huge opportunity. Put your best foot forward and welcome people warmly.
Invite people: The only way those 47% get to church is by inviting them. A personal invite from a family member, friend or neighbor is the most effective, so make it easy.
Be considerate: Lots of people go to church at Christmas, especially people who otherwise never go. This is an opportunity to tell them about Jesus, yes, but be respectful. This is not the time for a lecture or a guilt trip. Your atheist uncle is enduring church, ready to have all his stereotypes confirmed. Please don't let judgment, politics or hypocrisy reign.
Overflow or extra services: Christmas church attendance is more than double normal church attendance. Are you prepared with extra seats or services? There's nothing worse than 'no room at the inn' at church on Christmas.
What's next: Christmas church attendance is more than double normal church attendance. Are you trying to bring any of those people back? What do you have planned for after Christmas?
More Christmas Ideas: