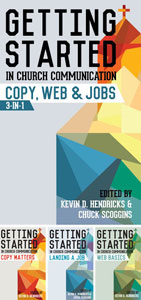 We're thrilled to announce a new series of ebooks, Getting Started in Church Communication, designed to help churches and communicators get started.
This new series covers writing copy, website fundamentals and landing a job—three volumes available separately or collected in one handy ebook (which saves you $2).
Buy 'em now at GettingStartedSeries.com
Here's what's covered:
Copy Matters: The written word needs to be written well.
Writing is a foundational communication skill and your church needs to wield words with wonder. You'll find practical writing tips and techniques, plus specific ideas to improve your copy and fine-tune your writing process. 14 chapters cover a range of writing issues, including writing for email, social media and heathens, as well as style guides and proofreading.
Web Basics: Here's to church websites that wow.
If your church needs a website or a better one, this is the place to start. Timeless strategy, practical details and realistic expectations are the order of the day, rather than specific techie details that will be outdated next week. 15 chapters cover a range of web topics, including first impressions, the call to action, designing for mobile and more.
Landing a Job: Your new job is waiting.
Landing that first job—or a new one—is a significant hurdle and it's OK to get help. This detailed road map will walk you through the job process, from internships to interviews, portfolios to prayer. 14 chapters help you get hired, including practical tips on networking, how to prepare yourself, what churches are looking for and more.
Plus each volume includes expert insights from church communication pros in the trenches.
Get your church started today.
Grab the volume that interests you or save $2 and buy all three in a single volume. Each ebook is available in multiple digital formats. Go to GettingStartedSeries.com and get started.
Thanks!
This series has been in the works for a while and we owe a big thank you to our many contributors and the great cover design from Laura Bennett.