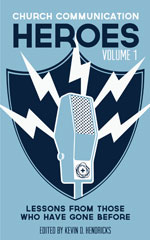 Back in 2011 I hailed Martin Luther King Jr. as a church communication hero. I felt like our cadre of communicators needed some heroes. There are plenty of church heroes for pastors and missionaries, lots of social justice champions to inspire our good works—even athletes have the encouragement of testimonies and end zone prayers.
I thought it was time to recognize the communicators. I thought it was time to look back at history to Christians who have done the same work we do—perhaps not with the same tools, but with the same mission in mind. So that first post launched the Church Communication Heroes series and we've now profiled more than 20 heroes. These are communicators who have gone before us, sources of inspiration, encouragement and challenge. They are the saints of communication.
So it's appropriate that today, All Saints' Day, we release a collection of those stories in what will become a series of ebooks: Church Communication Heroes Volume 1: Lessons From Those Who Have Gone Before. It includes 15 stories of communication heroes, a diverse collection of inspiring and challenging saints.
We're talking about heroes like Indian social reformer Pandita Ramabai, teenage soldier Joan of Arc and troubled painter Vincent van Gogh. They never used Facebook or had to edit a welcome video, but they know a thing or two about communicating and can offer us lessons in spreading the greatest story ever told.
We're especially thankful for the contributors to this ebook: Brad Abare, Dawn Nicole Baldwin, Scott McClellan, Gary Molander, Katie Strandlund, Erin Williams and Justin Wise, with design by Laura Bennett. (Follow them on Twitter)
Grab a copy of Church Communication Heroes Volume 1. It's available in most digital formats, including Kindle, PDF and iBookstore.