Today is Halloween and the church has its own haunted house, alterna-trick-or-treat and even Jesusween? Last year we explored zombie outreach, but this year it's time for a Halloween round up of some of the scariest church marketing we've ever seen.
Star Wars
The Church Nativity scene is old school. How about the church Star Wars Halloween display? Somehow, I don't think this is what Disney had in mind. (Source)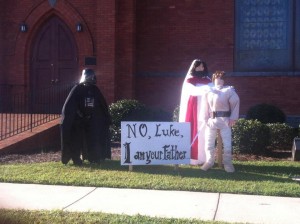 And there's always room for more Jesus and Star Wars goodness.
Church Signs
And what could be scarier than a few Halloween church signs?
Touch Down Jesus
Not sure how we missed this, but last month a new six-story Jesus statue went up in Ohio to replace the Touchdown Jesus that was struck by lightning. Now you can celebrate Halloween in peace.
Dolphins?
And for your true Halloween nightmare, this has been circling the webs: