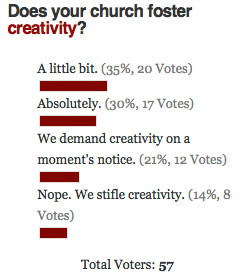 With the release of Todd Henry's The Accidental Creative, we asked if your church fosters creativity. The results were fairly split: 35% foster creativity "a little bit," but not far behind were the 30% that "absolutely" do. Next came the 21% that go a little too far and demand creativity on a moment's notice. Last comes the 14% that just stifle creativity.
Looking at it another way, 51% of churches are totally on board with creativity (some just go over the edge) while 49% are dropping the ball. Audience bias and sample size may have something to do with it, but those numbers aren't as bad as I thought they'd be.
Check out The Accidental Creative to learn more about encouraging the creatives in your church.