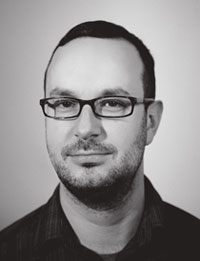 Michael Cina is what I like to call a rock star designer. That's because he's incredibly talented and does work for big names like Nike, Coke and Apple, but also does fun arty things that are just pretty. I also like to call him a rock star designer because we both worked at the Billy Graham Evangelistic Association at different times. Cool by association.
But despite my rock star label, he's not above pitching in at his local church. He does the random flier and is currently working on a logo design.
His rock star skills are available through his own studio, Michael Cina Associates. Before that, he co-founded YouWorkForThem. You can also check out his personal artwork on TrueisTrue or Cargo Collective (the above image is an example of his work, "Where it Ends it also Begins"), and you can follow him on Twitter.
You do quite a mix of fine art and corporate graphic design. How do the two play off each other and what advantage does that mix have for your work?
Michael Cina: Yes, right now the work is about 50/50 art and design. The two play off each other as inspiration for me personally, but realistically, there is little connection between the two. Sometimes I use my art in my design but that's rare. I don't know if there are a lot of advantages to this besides the fact that I am able to be "creative" almost all day in one way or another. In some ways I think it is harmful, as people view you more as a fine artist or a designer that only does fine art things, but that is the furthest thing from the truth. I know my design quite well.
What's your opinion on the current state of church marketing, specifically graphic design? Have you seen any progress in the last decade?
Michael: Oh, things have gotten a lot better, but there is a long, long way to go. How I see it, too many churches try too hard to be relevant with all kinds of crazy gimmicks. In my opinion, people are looking for truth, honesty… real things. I feel that the gospel is often sold short because of some odd marketing schemes or being 'the coolest church.' It seems forced to me and not authentic. I think the main thing is to be true to who you are as the body of Christ and do all things with excellence. If you can't do something well, find someone to do it better.
Why does the church seem to be playing catch up, tending to follow and not lead in design?
Michael: This is frustrating for me. I wish the church would lead in design as a representation of their faith. I mentor some college designers and I really push them hard in this area. I think many churches are still afraid of the arts in some way or another still or they just don't care about it. There is a lot of baggage the church carries still. Cutting that extra fat and getting to the heart of what Jesus taught is the most important thing, right? Design can even get in the way if not used right, but in a lot ways, design is the face of what the church or ministry is.
The church has to take interest in the arts before the arts will take an interest in the church, right?
We see a lot of stock photography and vector design used in the church. Is that today's clip-art?
Michael: Yeah, it is clip-art and is an extra step away from being authentic. I can't imagine being a church and using stock photography, especially of people. Find the best photographer in the church and beg them to help, not just anyone with a digital camera that is willing to help out. Anything worthwhile you have to work for, right?
What can churches, and church designers specifically, do to more effectively communicate and create designs that connect?
Michael:
Be honest about who your are as a church and what your mission is.
Use design as a tool to help communicate the church's vision and personality in a sincere way.
Figure out a visual tone/style that is also appropriate to the project.
Always do your best work with excellence, whatever it is that you are doing.
Always strive to grow in passion, professionally and spiritually.
What advice would you give to designers looking to improve their game?
Michael: There are many ways to answer this question. You can read a lot of books, go to college or just work as much as your schedule will afford. I think doing a combination of all three is a great way to learn. A lot of designers want to turn off the professional part of themselves when they leave work but I don't think that is an option when you are in the arts. A designer should be in a constant state of discovery.
I am not suggesting you work all the time and don't do anything else. You need a balance in life. One idea is to cut out things in your schedule like watching TV and design instead.
"Where it Ends it also Begins" by Michael Cina