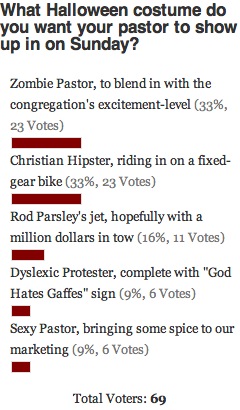 Halloween is a hot topic for churches across America, and you're sending a message with however (or whether) you choose to celebrate. All that said, Halloween is also pretty darn fun. So we wanted to know, which costume would you most like your pastor to show up in on Halloween Sunday?
And the winning costume?
A tie! A third of you want your pastor to dress up as a zombie in a twisted joke about how boring your services are. Then he'll finally know how he makes the congregation feel as he drones on from the pulpit. But another third of you went a little less somber route, begging instead for a hipster-pastor, pedaling his fixed-gear bike.
Next up, 16% of our responses want your pastor to dress up as Rod Parsley's airplane, along with a million dollar briefcase. We're undetermined if you'll use the money to replace your pastor or give them a bonus, and I'm sure there's a mix of both among that 16%.
Lastly, two groups are tied at the bottom. 9% of you are longing for a dyslexic, protesting pastor with a "God Hates Gaffes" sign in tow. Or maybe "God Hates Figs" instead? And lastly, 9% of you want to go with a sexy pastor costume to really try and bring the crowds in. It remains to be seen whether that is a praise of your pastor or an indictment of your taste.
Got a different idea from what we shared? Let everyone know about it in the comments!
This week, we're going to move on from Halloween and get a little more serious. Click to vote in this week's poll: Is your church staying silent in your community too often?