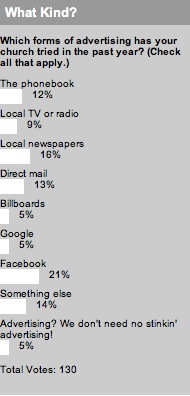 We're going to talk about advertising. Six years into the journey that is Church Marketing Sucks, we'll still have people who have tuned out after that introductory sentence. Jon Acuff had some insightful words in our interview with him earlier this month:
"To ignore advertising as the church is to ignore the billions of dollars in research companies spend in understanding people, the same people we're trying to reach. I think like anything else it can be abused, but when it's not, I think it can be really vital."
Plenty of you, like Jon, are fully on board with advertising. Let's see how your churches are using advertising in the past year.
(An astute commenter noted in our last 'select all' poll question that our system was eating our numbers and giving us mush, so don't take these numbers to the bank. The proportions and order should still hold, though.)
The big winner? A big surprise: Facebook. Some say Facebook is a Ponzi scheme, while others say impressions are really being made. What say you? Not far behind is the local newspaper–an interesting juxtaposition of the old guard and the new guard.

The next cluster of responses are folks sending out direct mail and using the phonebook for advertising. I honestly thought direct mail would get the win in our little poll. I'm 23 and not quite sure what a phonebook is, but Kevin tells me it's a big list of names in your area. Interesting that it places so highly.
Finally, local television and radio, billboards, and Google sit in the lowly final group. Looks like either poor returns or general disdain have kept you away from giving a shot to these three types of advertising. But for the brave few who have, do you have any tips for success?
14% of you have been trying something else, so be sure to let us know in the comments what it is. And 5% of you don't need no stinkin' advertising. Either because you hate it or because you literally don't need it. Perhaps you're not looking for growth or you're growing leaps and bounds without it.
This week, we're spending a little more time with Paul Armstrong's great series and asking: Which of Paul's 5 Tools for Church Designers would you rank as most important?