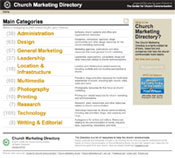 Hey, hey! Check out the Church Marketing Directory, the latest project from our nonprofit parent, the Center for Church Communication.
The Directory is a list of tools, resources and companies that help the church communicate better. It's kind of a yellow pages of church marketing. You'll find technology blogs, freelance designers, marketing communities, church management software and more. It's a first step in our plan to replace the long-neglected Don't Suck List.
You can use the 'Suggest a Link' feature to add sites that are missing and help the Directory grow. Though do note that this is a list of resources that specifically cater to the church, not any resource that could help the church.
You can check out the full announcement over at CFCC for all the details, or just go dive into the Church Marketing Directory.