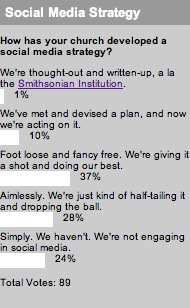 The Smithsonian Institution made some waves a few months ago with their social media strategy. It's hard to know if they were being frustrating over-achievers or meticulously-documented marketers, but it made us think: how well-developed is your church's social media strategy? Here's how you voted:
The big winner? Whoever the one person was that voted their church as we're thought-out and written-up like the Smithsonian. Speak up in the comments; share your strategy; let's hear it!
And the other group of you on the same track are the 10% who have devised a strategy, but now you're executing. We'd love to hear what went into your plan and how the execution is going thus far.
And what of the non-planners? 37% of you are flying foot loose and fancy free. You jumped into social media, and now you're just trying to engage in conversations and keep your head above water.
The next couple chunks of you aren't having the most social media success. 28% are trying your hand at social media, but you're wandering aimlessly and failing slowly. We'd love to hear where you've run into problems and what they were; perhaps you can help other churches with your story.
Another 24% of you are simply not engaging in social media. Do you feel like you can't give full effort, so you might as well not try? Just don't see the value proposition? Feeling lazy? We'd love to hear why you're not giving it a shot.