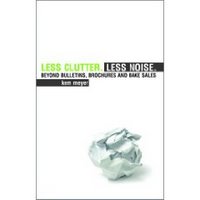 As soon as I read the title, I knew that this was a book I needed to read. Kem Meyer, communication director at Granger Community Church, gives practical and simple strategies for communicating clearly in her first book—Less Clutter. Less Noise.
This easy-to-read book is written in small, topical "chunks," which makes it easy to scan for specific topics or to read in a few short sittings. Kem's writing style is very conversational, and her book is full of real-life stories and examples that you and your church can actually put into practice!
Less Clutter, Less Noise is all about taking a second look at the things we communicate and seeing what message we are really sending out.
Kem shares that there are five myths about communication and marketing that we often buy into:
You are in control
The more choices the better
Advertising creates interests
It worked before so it will work again
People care about what you say.
As she expands on each of these myths, the big question becomes "Are people letting you in or shutting you out?" This is an important question to examine as we, the church, try to share the greatest message of all.
When we change the point of view in our communications from what we think needs to be said to what our audience thinks they need, then we will actually get our message
through.
Churches are challenged in this book to look all aspects of communication, including web sites, signage, conversations and vocabulary to break through the clutter and noise by embracing clarity.