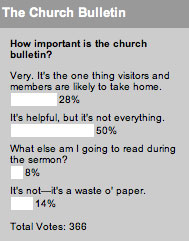 Last week we asked about the importance of the old standby in church communication, the bulletin. Half said the bulletin is helpful, but it's not everything. 28% said it was very important and 14% said it was a waste of paper.
The bottom line is that it is an important component in how a church communicates. It's likely the one thing visitors and members will take home with them. While it doesn't tell the whole story, it does speak volumes. For more on church bulletins, check out some of our recent polls as well as the discussions in the Church Marketing Lab.
This week we want to know if you're keeping up with the 'heart and soul' series. When you're baring your soul it helps to know if people are listening.