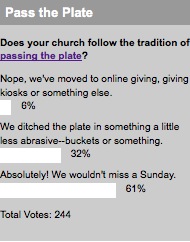 Treasurers love it, and visitors dread it. There are tons of problems with passing the plate: what the heck do you do to fill that time from the stage? What if people feel unnecessary pressure? Who gets to pass the plate? How do we protect that money sitting in the plate free for the stealing?! But there's also one huge problem with not taking an offering: what if we can't afford to keep the lights on?
So, like we love to do, we turned it over to you and asked if your church passes the plate.
A whopping 61% of you are still passing plates! Looks like this is the clear winner in terms of quantity, but is it the winner in terms of quality? I'm a skeptic here.
There are 32% of you who pass the something or another. I've seen plastic buckets, paint cans and felt baggies, but nothing else readily comes to mind. The comments are a great place to answer the question, "What are you passing around during church?"
Lastly, 6% of you have abandoned the "giving time" approach altogether. Your giving is done online, by mailing it in, going to a kiosk or dropping it in on your way out. Have you seen a huge drop in giving doing this? Have people given you a good response?
There's no right answer to this question, but you should dare to ask the question: For 94% of us, is a Sunday morning giving time really the best option? And how are we defining the "best option"? In my opinion, I wouldn't define best as the most short-term week-over-week giving. Best is what will get you the most returning visitors, best long-term givers and more sacrificial, joyful givers. I'm sure for your church, best is something very specific as well.
This week, we've got a simple one for you. What do you do for your church?