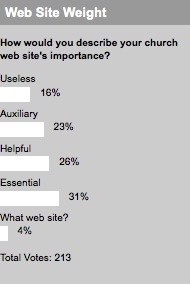 Yes! Only 4% of you don't have a web site! Amen.
Excuse me. What I meant to say was: Last week, we were wondering how important you would say your church's web site is. Is it just a level above your families in importance? Could you live without it? Is it worthless? I had a hunch there would be a lot more of the latter than the former, but thankfully, I was wrong.
The biggest chunk of you say that it's absolutely essential to your church's function. You're tapping the full power of the web to bring people in and keep them connected, and we support that.
Slightly less of you would describe your site as "helpful" but not "essential." Maybe people can figure things out there, but they could certainly live without it. It's just a hair above the next option of "auxiliary," both of which hover around 25% of you.
16% of you still say it's useless, so there's still some work to be done (Hint: Church Marketing Lab and Freelance Lab). But hey, at least you have a site, that's a start. Right? Right?
For this week's poll, we would love to know, which Sunday blunder irks you the most?