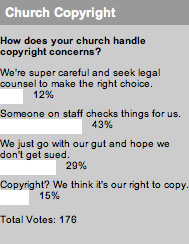 Last week we asked about the sometimes prickly subject of copyright and how your church handles it.
The majority of you, 43%, have someone on staff who makes sure copyrights are covered and no one's stealing or getting in trouble. Good for you. Another 12% are super careful and consult lawyers and the what not. That's great, but it only amounts to 55% who are making sure they're legal.
Almost a third (29%) are just going with their gut and hoping they don't get sued. Yikes. Is this just the easiest path to take? Do you not know where to go for help (Hint: The Church Marketing Lab is a great place to ask questions)?
Finally, 15% think it's the church's right to copy. Talk about prickly. I know there's a whole open source, anti-copyright movement, but this doesn't seem like an approach that has much integrity for churches. I realize others may have an attitude that if it's for ministry it's open game. Again, you're lacking in the integrity department. If you don't like copyright, stick to public domain or the appropriate Creative Commons material.
This week we're asking about taking your church web site mobile.