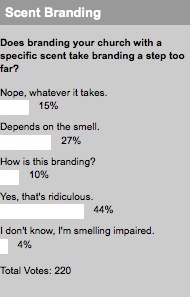 Some out there are suggesting that scent branding is the future of marketing. Others are suggesting those people are idiots. So we did the only thing left to do–turned it over to you guys.
44% of you think scent branding is ridiculous. You don't want to be the Caramel Vanilla Church or even Seaside Beach Breeze Baptist. Or maybe you're just afraid that after someone visits once, they will throw up if they ever notice your scent on the air again.
27% of you are up for the idea, but only for the right scent. I admit, I'm with you. If the project got in the hands of someone without olfactory prowess, you could end up with something foul. And another 15% of you are already on board with this idea. You've put your order in at the local candle company, and you're ready to guest blog the experience for us.
10% of you don't think this is branding at all, and 4% of you are smelling impaired. I guess for these folks, traditional branding it is.
This week, we'll be shifting gears a bit. What do you think of ads on church web sites? Click through your RSS reader to cast your vote.