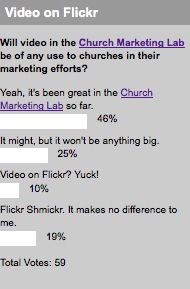 This week, we asked how you are feeling about Flickr adding video awhile back. It was a pretty hot issue back in the day, with sides being drawn and battle plans being prepared. The small number of responses, however, would lead this statistician to believe the furor has died down.
Of those that weighed in, 46% have loved seeing video in the Church Marketing Lab. We even showcased some of the video capabilities and their impact on the Church Marketing Lab awhile back.
A quarter of you think video on Flickr is no big deal. Just a passing trend. While another 10% of you are pretty strongly against it. You're the vocal minority who got my mind running on this question, so I'm pretty disappointed you could only rally one of ten to crusade against video. And a final 19% of you don't give a rip about Flickr.
My conclusions? Lots of church marketers don't care about Flickr. Plenty of you are in the business of speaking, editing, writing and beyond, so Flickr doesn't float your boat. Others of you use Flickr, but you're too wrapped up in deadlines to fight about whether or not they should have video.
This week, click through to tell us, Is your church Twittering?