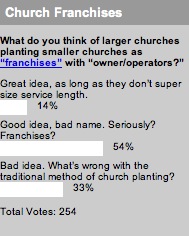 We talked a while back about church franchises and it polarized folks a bit. So we decided the best way to go about things was to take it to the polls. Here's how you felt about franchising church:
The majority of you, 53%, think the idea rocks. You, however, think the name sucks. Perhaps some other term could work more effectively for you. It's almost like you're putting a new church somewhere and tending it, so those 53% of you could call it something along the lines of "church planting?"
Slightly less of you, 33%, don't like the idea in general. Why should a new church be part of an old church? What's wrong with the way things are done? I think this comes down to a matter of the wise old adage "different strokes for different folks."
The smallest group of you are totally on board with franchising church and calling it "church franchises." That 14% of you does disagree with the idea of super-sized service length. And hopefully you will fight for these franchises to continue serving nutritious and substantive life change.
This week, we want to know if you're a church conference skipper or a junkie. Head over to the right frame and let us know where you stand. RSS readers, click on through to let us know where you stand, too.