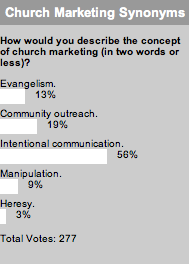 Last week, we asked you how you would describe church marketing. The majority of you, 56% actually, would describe it as "intentional communication." That sounds to us like 56% of you are right on board with us.
13% of you believe church marketing is perfectly correlated with evangelism. When you tell someone about Christ, you are marketing. When you create something, you are marketing to have people come to Christ. Another 19% of you took the positive stance describing marketing as "community outreach." Church marketing is your way to let people know you exist and know you care.
A lesser number of you don't look on church marketing so fondly. 9% of you describe it as "manipulation," and 3% of you think it "heresy." You ought to check out these entries to understand why we do what we do.
As always, tell us what you said and why in the comments. How does your church treat marketing?
This week, we want to know a little bit more about you, so let us know who you are and what you do!