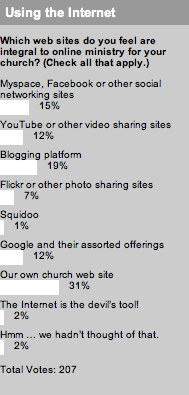 Last week we asked you how your church uses the Internet. Now that all of our e-ballots are in, we have the formal results for you.
Only 31% of you feel your own church web sites are integral to ministry. This is a tiny number. I think some of us might not have realized we could click multiple boxes. Either way, 69% of those polled do not feel their church sites are integral to ministry. Ouch.
19% of you think blogging is essential. This is an encouragingly high number. It really gives churches a way to reveal their pastors' hearts and passions to non-members. Moving on down, 15% of you think social networking is essential. Again, an area I think we can do better in as a church. These social networking sites are a fantastic tool.

12% of you use YouTube of other video sharing. This is another number that was encouraging to me. Tying YouTube was Google's importance for ministry. Tell us more–just search? Gmail? Google Docs? Reader? Calendar? What do you use?
93% of you need to get involved in our Church Marketing Lab. I mean, 7% of you are using Flickr or other photo sharing. These are great tools to use to share event photos, get advice on design or show your facilities.
Bringing up the rear are those of you who said the Internet is the devil's tool (we're on to your attempts to throw off our perfectly scientific data). 2% of you hadn't yet thought of using the Internet, and 1% use Squidoo.
We've done an entire series on how your church can use new technologies, including specific entries on Flickr, MySpace, Squidoo and online video sites. You can share in the comments how you use these tools and any success stories of how they've worked for you.
This week, you can tell us what you think of the discussion-stirring topic of church mascots for children's ministry.