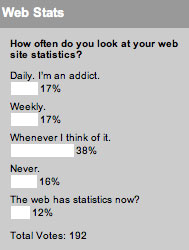 Last week we polled to see how many web stat addicts we had in the house, and thankfully only 17% of you were true addicts. Another 17% check their numbers weekly, while most (38%) only do it when they think of it. 28% don't check their stats, don't have access or don't know what we're talking about.
Confession time: I used to be a daily stat checker. I'm not sure how much it helped knowing every daily dip and rise in traffic. It can be a nice encouragement that what you're doing pays off, but it can also turn into a daily time suck. Now I just check the stats when I think of it, and that seems to work a little better.
This week we ask about how often pastors talk about stewardship.