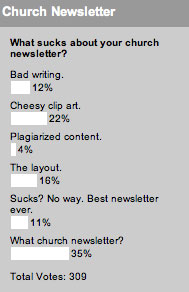 Last week we asked about church newsletters, the sanctuary for modern clipart. But apparently it's the church newsletter that's endangered. 35% said had no church newsletter. The remainder cited the cheesy clip art (22%), the layout (16%) and the bad writing (12%) as making their church newsletter sucky. 11% claimed their church had the best newsletter ever.
I always thought church newsletters were mandatory. You learn something new every day.
This week we ask about the ol' church van and what should be printed on the side. Personally I'd like to see an air-brushed version of "The Last Supper," but that answer didn't make the cut for our poll.