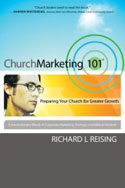 OK, let's get it out of the way:
Worst. Title. Ever.
But we'll forgive Richard Reising for calling his book Church Marketing 101: Preparing Your Church for Greater Growth, because despite the name, it is doing foundational work. The book covers the basics of marketing and why churches should care. It's the handbook many of us will want to give as gifts to less-than-eager pastors.
Reising, the founder and president of church marketing firm Artistry Marketing, lays a good foundation. Let's take a look at some of the lessons:
"You cannot find the answer to growth for your church in mimicking what growing churches do—you are more likely to find it in what they are. … Marketing is not about applying neat promotional ideas. … Marketing, to me, is not about sugarcoating or misrepresenting, it is about effectively communicating. It is meant to support a work that God is doing in your church—not replace it."
Basics
And just what is marketing?
"Marketing is much more than promoting things. Marketing requires thinking it through. It involves every entity and interaction that fosters the outside world's perception of your organization. When you do not pay your bills, you're marketing. When you do not cut the grass, you're marketing. When you talk over the heads of your 'prospects' or fail to serve them, you're marketing. You are shaping perception in the hearts and minds of your members and target community—that is the very definition of marketing."
Sound familiar? That's the broken record we've been playing since we launched this site.
Differentiate
Reising defines marketing as the management of perception, which is a good definition. But it gets tricky when you realize that perception is subjective. Not everybody likes plinky piano music and emotional altar calls (can you tell I don't?). But not everybody likes liturgy and kneeling. Some people love the recent EKG peer review, but others hate it. Neither of them are wrong, they just have different opinions.
Which is why it's important for a church to differentiate. This one grates on me, because I want my church to be the body, to be diverse with all types and kinds of people. But the reality is that we don't always get along. Sometimes it's just more practical to put the headbangers in one service and the plinky people in another.
Pre-Marketing
Reising goes on to state that "over 50 percent of the churches in the United States should not promote themselves," a fact he'll repeat again and again, based on the idea that most churches aren't ready for new visitors to come. Before they can put up posters, they need to do some initial work so that any visitors will want to stay. Reising calls it "pre-marketing" and he spends a majority of the book on it.
Repetition
Finally we come to my favorite lesson:
"In today's world, you have to overcommunicate to communicate. If you are not sick and tired of saying it, it probably has not been said enough."
I can tell you how true this is from my experience in youth ministry. I'm amazed at the inability of anyone to turn in a permission slip on time. We put it in the newsletter, announce it Sunday, announce it Wednesday, put in the bulletin and then when we ask why it's late they scratch their heads.
But the one thing our youth group does know? Our vision statement: To see kids come to Christ and see Christian kids become Christian adults. Why do they know it? Because we've repeated it so often we're sick of saying it, but the teens know it and have taken it to heart.
Repeat, repeat, repeat. In some ways it's that simple.
Note: This "review" (which is really more highlights) was based on an early press copy, so the quotes may not be completely inline with the final version. This also explains why I left out the page numbers, since they won't be the same as the final version.
Church Marketing 101: Preparing Your Church for Greater Growth should be available February 1, 2006.