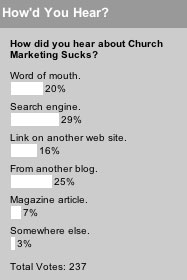 Last week we asked how you heard about Church Marketing Sucks, and the results are pretty interesting. The vast majority found us online, 70% coming from search engines, other web sites or blogs. Search engines had the biggest chunk with blogs coming in second. Word of mouth was the third most popular method at 20%.
Based on the marketing we do, that's pretty much what we expected—except for the search engine results being so high. That's a cool surprise.
This week we ask how much e-mail marketing your church does.