This week we take a look at another youth group flier. Offer your feedback and help other church creative folks improve their work.
Samples:
Flier: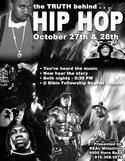 Notes:
Bible Fellowship Baptist Church
Sacramento, Calif.
Created by Glenn Robinson
Bible Fellowship Baptist Church is a small, conservative congregation with about 80 members. Their youth group, Real Ministries, has developed from four kids last year to an average of 40-50 this year and serves as an outreach to many city kids.
They're doing a two-night video series The Truth Behind Hip Hop by ExMinistries. Their youth pastor, Glenn Robinson, used to be involved in the local hip hop scene before coming to Christ.
Glenn has a little Photoshop experience and put the flier together himself, hoping to spread the word about the event and give students something they could pass out at school.
Questions:
What do you think of the design?
What do you think of the text?
What do you like about the approach?
What would you change?