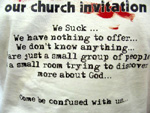 Lisa Sampson has an interesting post (with several comments) from October 26 that started as a comment about ChurchMarketingSucks.com and ended with a unique T-shirt approach she found a church was using. The shirt says:
our church invitation
We Suck…
We have nothing to offer…
We don't know anything…
We are just a small group of people
in a small room trying to discover
more about God…
Come be confused with us…
While I appreciate the spirit behind this, I am not compelled to check out this church. By the very nature of the shirt, they don't appear very intellectual so the false sense of pseudo-intellectualism exuding from it confuses me. I think by using the word "confused" they are inferring that they are seekers of Truth and want you to come join them in their quest. I can dig that, but I doubt people who are really seeking Truth are relating to this shirt, its approach, or even the person wearing it.
I like what Rick said on a recent comment he made here on ChurchMarketingSucks.com. Although I don't believe these are the rule #1 and #2 for advertising, I appreciate his perspective:
"Rule #1 in advertising: If your ad has to be explained, it sucks. It fails.

Rule #2: If your ad makes people laugh, cry, jump up and down, yet fails to sell the product, your ad sucks… it failed."
I wonder how many people (of the kind they are seeking) are visiting the church as a result of this shirt?