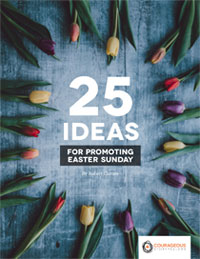 Easter only happens once a year, but it somehow always seems right around the corner. And there never seems to be enough time to prepare for one of the biggest worship services of the year.
That's why we've compiled a whole bunch of Easter ideas and resources just for you:
Download 25 Easter ideas now.
Now you're equipped to take on even the most ambitious worship service and do so without burning out or losing control. You've got this, and we can help.
3 Sampler Easter Ideas
We'll get you started with three simple Easter ideas.
Service Times on Website: Don't forget to put your Easter service times on your website. It's one of the first places everyone will look. Easy as that.
Pin Service Times on Social Media: Post the times to your social media accounts as well. On Facebook and Twitter, you can pin these reminder posts to the top of your feed so they're more easily accessible.
Website Landing Page: Develop a dedicated Easter landing page on your website to compile all the relevant information. Here are 60 killer examples of church websites and Easter landing pages to give you some ideas.
Get the rest of our 25 Easter ideas now.
More:
Need more help with Easter? We can help.