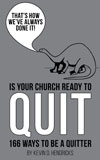 Every Thursday Bob Goff quits something. We wrote a book about it: Is Your Church Ready to Quit? 166 Ways to Be a Quitter. You can get a free preview, buy it now or enjoy this sample:
162. Quit Politics
Research from 2007 found that young people thought Christians were too involved in politics.
That was before the divisive Obama presidency. If anything, things are worse today.
Politics and the pulpit don't mix.
You can get more straight-up honesty like that when you buy the whole book: Is Your Church Ready to Quit? 166 Ways to Be a Quitter.
Divisive Politics Today
And that was all written before the 2016 presidential campaign. Maybe you thought it couldn't get any worse, and then it did.
Talking about politics is always challenging for the church. First and foremost, churches need to be aware of the legal prohibitions of endorsing candidates. But more importantly, it's one of the fastest ways to divide your congregation.
At the same time, it's hardly any better to completely ignore politics. This is a major cultural moment right now, and churches have an opportunity to be a voice of hope. While we encourage churches to quit politics, churches should never stop being a voice of hope.
The challenge is finding a way to speak hope and love without turning people away. A few options that may be helpful:
We shared the example of Election Day Communion earlier. This is a way to bring people together across party lines.
Earlier this year Andy Stanley preached about politics and emphasized putting people over politics. This kind of approach can be a powerful way to overcome the usual divisiveness of politics (the illustrated notes are pretty cool too).
Anything the church can do to develop empathy across political lines is a big plus. Helping people recognize the divisive political climate is a good first step (Anxiety, Nostalgia & Mistrust Survey). It's easy to think everybody thinks like we do, and that's definitely not true.
As churches are communicating it's helpful to stop sharing information and start sharing inspiration. Politics may try to offer hope, but the gospel message offers real hope for all people. Give people hope.
Finally, churches need to pray. Not for a specific side to win, but for healing and unity across the country. Encourage your congregation to vote—but also encourage them to pray.
So yes, quit politics that are divisive and turn people away. But you can still address the common fear and anxiety with Christ's message of hope, love, and grace. That's why the church exists.
More: