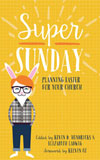 Easter is the biggest Sunday of the year. Gearing up for it can ratchet up the stress for church communicators. Our new book, Super Sunday: Planning Easter for Your Church, has an entire section on how to deal with the stress of Easter Easter, and we wanted to go even deeper and learn more about Easter survival.
One of the most common questions church communication leaders ask me is: how do we survive Easter? As if Easter is something we are suppose to "survive."
Jesus didn't even survive it, so why do we even try?
Share Easter
This year, instead of trying to survive Easter, I challenge you to share Easter.
What I mean by share is, take part in. Actually partake in the sacrifice of Easter so that you don't miss out on the larger story.
Easter is not just a 'job' or an 'event.' Easter is the story that changes everything. It is the promise and hope we have for eternal life. Easter is the reason we're in church marketing to begin with because without it, we have nothing to say.
Bottom line, you can't expect people to do something you're not engaged in. If you don't share in the Easter story, you'll end up on the morning after wondering what happened.
How to Share Easter
Here are some ways you 'share' Easter:
Share in Preparation
The night before Jesus sacrificed his life for humanity, he spent the night with God in the Garden of Gethsemane preparing his heart for what was to come.
Before you begin creating strategy or creative for Easter, make sure your heart is ready (and your team's heart).
Each year, I take our creative team offsite to our Saddleback Ranch property for a half-day retreat. Yes, it's hard to find the time to break away, but it's essential to creating.
We spend time praying, reading, reflecting and centering our thoughts on Jesus so that he is our inspiration to create. We pray for our teams, our volunteers, our pastor, our church and other churches.
Next, we spend time praying and thinking about the people in the community we are trying to reach. What are they going through? What are their questions/fears? Why do they need Easter? This allows us to create marketing material that personally speaks to these people.
Share in Participation
It's easy to be a spectator at Easter, especially for a church's communications team. As Easter services approach, I require our team to serve in at least two services.
This might sound intuitive, but as a communications team, we spend hours in preparation for Easter only to be to busy or exhausted to participate in it. If we miss this, we miss out on being refueled for more ministry.
As Jesus entered into the responsibility to fulfill his purpose for existing, it is our job to lean into what God is doing through your church and participate in the miracles.
Make sure you and your team personally experiences the stories of changed lives happening in your church. Then find a time after Easter to share these stories with each other.
Share in Celebration
Don't wait until after Easter to celebrate God's work. If you wait for the results of Easter to celebrate, that's called gratitude. If you celebrate before Easter begins, then that's called faith.
I challenge you to begin the process from a place of celebration. This will influence your designs, copy and strategy.
Our primary strategy when promoting anything is to create advocacy. How can we turn our congregation into a community of advocates? Easter is no different.
If Easter looks and feels like a celebration, your community will be more inclined to share it with their friends, families and co-workers.
Why It's Important
If we ourselves are not preparing, participating and celebrating the story of Easter, it's impossible for us as communicators to create a message that will connect and engage with our audience in a transformational way.
Never lose the awe of ministry by simply surviving Easter. Instead share in it with an expectant heart, renewed mind and spirit-filled thoughts. May your sacrifice be the reason heaven is bigger.