It's All Hallows' Eve, not All Hallows' Steve.

— Church Curmudgeon (@ChrchCurmudgeon) October 29, 2014
Yes, church marketing is serious business, but sometimes we need to have some Halloween fun.
Halloween Church Signs
A couple years back we collected some groan-worthy Halloween church signs. Last year Ed Stetzer collected even more:
No Tricks, No Trunks, No Treats, Just Truth
The Only Ghost Around Here Is Holy
Heaven Is No Trick, Hell is No Treat
Whoever Thought Up "Fun Size" Chocolate Wasn't Thinking
As bad as all those signs may be (wait—I actually like the chocolate one), they're way better than the Halloween book burning.
Church Visitor Horror Stories
With your help we've been collecting church visitor horror stories to celebrate the release of Unwelcome: 50 Ways Churches Drive Away First-Time Visitors. Here are the winners (but be warned, they're scary):
Fired Pastor: After the service a church held a business meeting to fire the pastor who just preached.
Reserved Seating: A church lady giving the evil eye over her saved seats.
The Stalker: One church was a little too eager to get a visitor's information.
Zombie Outreach
Just when you thought pop culture could do no more with zombies, the church joins the shuffling mob! We explore four ways you can reach out to the undead:
Throughout history it is the church that has stepped forward in moments of catastrophe to care for the least, the last and now the undead.
All Saints' Day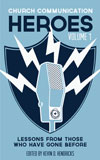 Many churches go to great lengths to redeem Halloween—the evil holiday where people actually talk to their neighbors and we give each other candy—and forget that we've been here all along. The church has been celebrating the ghosts of our past for ages with All Saints' Day. We're big fans of learning from the past:
"You're not the first person to work for a church and feel under-appreciated and over-worked."
Last year we celebrated with an entire book: Church Communication Heroes.
Pastoral Costumes
In the past we've asked how your pastor should dress up for Halloween. Maybe it's time to revisit that poll. Speak up in the comments—how do you want to see your pastor dressed for Halloween?