As you're gearing up for Christmas we've got a few highlights from the past week you might enjoy. As well as something else: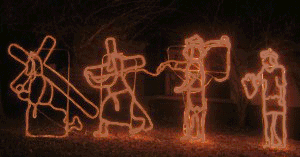 This is from an annual Christmas light display on Chicago Street in Blue Springs, Mo., that spans three miles and has been going on for 30 years. One stretch tells the story of Jesus' life from birth to death—yes, flogging included. The animated flogging dates back to at least 2004 and has made the rounds online multiple times, though we discovered it this time around thanks to Mark Oestreicher and his collection of the 50 weirdest nativities.
The light display itself has been a local fixture for 30 years, and is consistently mentioned in lists of holiday light displays. It was started by electrician Steve Steiner who opted to retire last year and this year donated the display to nearby Buckner, Mo., which is continuing the free display in Heisler-Burns Park with a percentage of donations going to local charities who are helping with the display, including four churches. No word on if the city is keeping the flogging Jesus display.
You can even take a video tour of the light display from back in 2007, though when you get to the street with Jesus the music turns death metal and it's a little disturbing. A shaky video of this year's display isn't quite as disturbing, though it's definitely more patriotic.
So what do you think? A tacky misstep in an otherwise fun tradition? Innocent display that's taken out of context and ridiculed online? An overdone consumer waste that tries too hard to shoehorn the entire gospel into a drive-by display? Or a good step at taking back Christmas that's marred by too many Santa's and junk that distracts from Jesus? Or now that the city is involved, an ACLU lawsuit waiting to happen?
So many ways to consider this one.
Friday Round Up
Let's move on to a round up of this week's links:
More Christmas Ideas: