On Aug. 28, 1963—50 years ago—several hundred thousand people marched on Washington demanding racial equality. A Baptist minister took to the podium and delivered a thunderous speech that ended in a call for all God's children to be free at last.
That peaceful protest captivated the nation and became one of the most enduring and iconic moments of the civil rights movement. The speech by Martin Luther King Jr., given on the steps of the Lincoln Memorial, is one of the greatest speeches in U.S. history.
While it was a triumphant day, the March on Washington was not the end of the civil rights movement, but only a high point in that epic struggle. Only a few weeks later four young girls would be killed while attending Sunday School when Sixteenth Street Baptist Church was bombed.
Fifty years later we look back on the civil rights movement and that historic march on Washington. Churches were intimately involved in the movement and we have much to learn from their example about communication, community involvement and social justice. We talk with Trillia Newbell, author of the forthcoming book United: Captured by God's Vision for Diversity.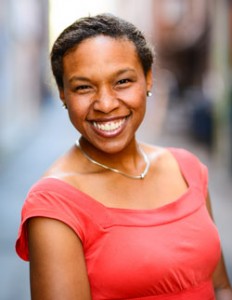 Tell us about your new book. Why did you write it and why is it needed today?
Trillia Newbell: It's well known that America has dealt with significant racial issues throughout the last century and while great strides have been made since the 1960s in issues of racial equality, the reality is that our churches remain separate but equal. The saying goes, "Sunday is the most segregated day of the week." In a time of great progress, why does the church remain relatively unmoved? How can we change it? Should we even desire to change it if equality has been reached? United sets out to answer some of these questions through my personal story and God's Word.
I wrote it because I've lived it and wanted to share how the Lord has blessed me with diverse relationships and how we can all benefit from it. I think it's needed because we can speak about the problems over and over again but rarely do we provide solutions or cast a vision. My prayer is that United will cast a vision for the possibility of diversity within churches. My book will not provide all the answers, it's my perspective and experience, but I do hope that it will help start and continue the conversation and provide ideas.
On the 50th anniversary of Martin Luther King Jr.'s "I Have a Dream" speech how is the church doing at living out that dream?
Trillia: I use his speech as an illustration in my book. I'd say that for the most part his dream has not been lived out in the church. You don't see many little black and white children playing together. That was his vision and we are still working toward it.
What can we do to better realize that dream within our churches?
Trillia: I think if we don't believe there is a problem we won't fix it. So the first step might be to acknowledge that we are still segregated. From there I think we need to be honest about how we feel and what we think about other ethnicities. Finally, pastors must have this vision in order for the church to implement it.
Reading the Narrative of the Life of Frederick Douglass, An American Slave, I was struck by the entire appendix he added explaining how he differentiated between proper Christians and slave-holding Christians: "The slave auctioneer's bell and the church-going bell chime in with each other, and the bitter cries of the heart-broken slave are drowned in the religious shouts of his pious master." Even when slaves were freed those differences continued with Jim Crow laws for another 100 years—it's no wonder our churches are so divided. Will the pain of that division ever truly heal?
Trillia: The gospel unites—at least if it's understood and applied it should unite. One day every tear will be wiped away. So I have great hope that we will one day have healing. I'd like to say that it will come this side of heaven but I can't do that because I don't know. But I do have hope that God can work good in the hearts of men to repent where needed and to forgive.
I've started doing some reading on the civil rights movement and I'm amazed at how subversive and shocking it all really was. Both that these things happened—the bombings, lynchings, etc.—and that they needed to happen—in most cases the Supreme Court has already decided the issue and we were talking about enforcement of the law, not even changing the law. What do you find most surprising about the civil rights movement?
Trillia: For me what's most surprising about the movement is that it wasn't that long ago. It's hard to believe my father lived during such a time as that. Though I have experienced racism and I can see division, I have not experienced anything like what my father and grandfather experienced. It's hard to believe this is how America operated.
Churches obviously had a big role in the civil rights movement. Many of the leaders were ministers. Lots of churches were bombed in retaliation. What can today's churches learn from the civil rights movement?
Trillia: I think perhaps one thing the church could learn would be perseverance. I imagine leaders and non-violent protesters must have felt like quitting. The opposition would seem too great at times for anyone under such circumstances. But they didn't quit, even while being sprayed, beaten and jailed. Simply amazing perseverance.
I've been a Northerner all my life (doesn't seem right to call a Midwesterner a "Yankee") and last summer I spent some time in Mississippi, probably my first extended time in the Deep South. It was definitely a different culture and there were vestiges of the past, whether it was the self-imposed segregation (public vs. private pools) or the many monuments to the Confederacy. When we talk about race, slavery and civil rights there's a lot of pain, shame, wounded pride, etc. Why is it important to continually have these conversations?
Trillia: This is a question I hear often. Why do we keep bringing it up? Why is it important? It's interesting because it seems like it continues to be at the forefront of conversations because events like the George Zimmerman trial happen or a church won't allow an interracial couple to marry. It sticks around because tensions and racism remain. Our hearts are the problem, I think. We continue to sin in this area and until we stop hating one another it will forever remain an issue.
What's some reading we can do to dive further into race and the church?
Trillia: I recently listed some books that might prove helpful for history and black literature. You can access them here. You can also access several books about church and race via the Reformed African American Networks bookshelf. I also list several books in United, one in particular that has proven quite helpful to gaining a biblical understanding of race is From Every People and Nation: A Biblical Theology of Race by J. Daniel Hays.
More:
For more on the civil rights movement and Martin Luther King Jr., check out our archives:
Photo: American Jewish Historical Society