For the past week we've been looking at the civil rights movement in honor of the 50th anniversary of the March on Washington. Today designer Bobby Martin, who runs the Original Champions of Design agency in New York, shares three lessons about what churches can learn from the civil rights movement. Here are his simple lessons:
1. Document everything.
Some of the best lessons for future generations stems from photography and journalism of the civil rights movement.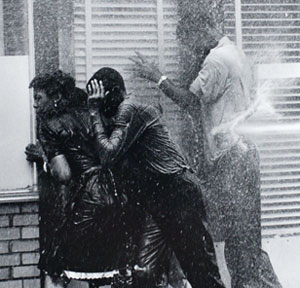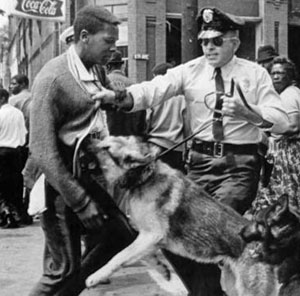 Shocking images, video and stories of the civil rights struggle helped galvanize support from across the nation, leading to passage civil rights legislation.
2. No more committees.
The most memorable work gets made when one person has the guts to make a decision and go with it. Leadership is important.
Some of the most important advances of the civil rights movement were actions of individuals or groups acting on their own without direction from civil rights leaders or organizations: Rosa Parks refusing to give up her seat, college students in Greensboro, N.C., sitting at segregated "whites only" lunch counters and the Freedom Riders who rode on into Mississippi after mob violence in Alabama, against the advice of leaders including Fred Shuttlesworth. Even during the Montgomery bus boycott that Rosa Parks incited, the people led the way:
When some seventy ministers and other black leaders gathered at the Dexter Avenue Church that evening, they were met with a fait accompli. Realizing, as Jo Ann Robinson wryly put it, that their congregations "were planning to support the one-day boycott with or without their … leadership," the ministers "decided it was time for them, the leaders, to catch up with the masses." (Freedom's Daughters: The Unsung Heroines of the Civil Rights Movement from 1830-1970)
3. Keep messaging straight-forward and direct.
Bold and simple type works best to convey a clear message. "I AM A MAN" says it all: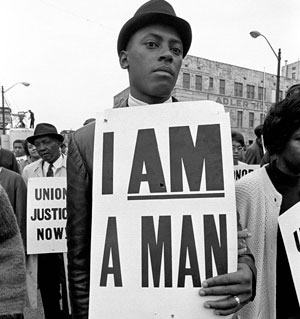 These prominent "I AM A MAN" signs were used during the Memphis sanitation strike in 1968. Martin Luther King Jr. was in Memphis supporting the strike when he was killed.
In a 2008 conference, Bobby Martin shared how the civil rights movement inspired his work at Abyssinian Baptist Church in New York:
"I learned I could use graphic design for more than just making things pretty. I could use graphic design to make a difference."
Learn More
For more on the civil rights movement check out our archives: